When I go out, out I love how it makes me feel and wanted to put down in words how does it feel getting dressed up to go on a night out? How does it feel to get dressed up as your alter ego to go on a night out?
For me the majesty of getting dressed up is not only an act but it's the theatrics of the event and how ultimately it makes you feel before you even step out the front door or step through the door of a nightclub!
I've had girlfriends say this to me before and I never understood this and it was only on a night out with Kim where are we got ready together but I realised the theatrics, the preparation and the process are what makes or breaks a night out.
Let Me explain.
I go out with Kim quite a lot in Manchester as she lives in a flat within minutes of canal Street in Manchester, because of this I do get dressed to go out direct from Kim's place. This is usually done in a rush or or so slowly we get a bit drunk and we end up going out at 2 a.m in the morning instead.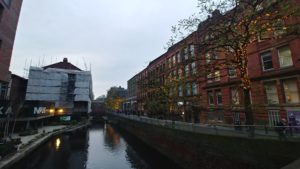 So, on a recent weekend away we were attending an event in Leeds. An event which started at 9 p.m. but we started getting ready at about 3 p.m. a process of shaving, plucking, preening, hair done, apply makeup and then putting our outfits on for a night out.
We got to our hotel about 2:30pm and we went straight to our room. The girls on reception did comment on how much luggage we had for a 2 days stay. "Sod off, ya nosey sod!" was Kim's response in her thick Mancunian accent.
Anyway we got to the room and first things first, two glasses of rosé wine for the ladies.
"Cheers luv"
"Cheers Kim"
Nice room, No, a great room. I know we paid for it a massive double bed our own little seating area looking out towards the city centre and a bathroom with a massive shower.
We have a drink toast ourselves and then toast to each other and then we start to get unpacked.
Mind that we are only in Leeds for 2 nights the Friday night is our event night and the Saturday night is first of all so that we can recover from the Friday and don't have to get up early to go back to Manchester but so that we can have a lie-in in and then have a second night out in Leeds in a different atmosphere but despite this Kim seems to have brought half a wardrobe with her and I count 6, yes 6 outfits.
Well a girl's got to have choice darling, she says to me.
I can't say anything as I've brought four outfits and yes a girl just needs a choice. Plus its a girl's purgative to change her outfit at the very last moments.
What does make Kim laugh is the 6 pairs of shoes, i've brought.
I can never decide on shoes and have to try multiple pairs on before I decide if they go with my outfit this might explain why I've got so many pairs of shoes at home. When i'm at home i'll try on 6 maybe 10 pairs before I decide on which pair
I think on last count I had about 65 pairs of shoes. What can I say I like shoes.
Anyway Kim takes the bathroom first as she's much younger and has less hair to shave, wrinkles to stretch out, grey hairs to pluck, etc.
It's my turn in the bathroom and here is where the theatrics start.
In the shower,
Wash my body,
Wash my hair,
Clean that body.
Even that bit down there.
Squirt the shaving cream,
Brand new razor in hand,
Shave from top to bottom,
Need to use both hands.
"Don't forget that bit" says Kim, "That bit there".
Preened to perfection,
It's time to get ready,
My make up tonight,
Light colours,
and not to heavy.
My favourite foundation,
From the girls at NYX,
Cheeks blended to perfection,
Because I love the look they give,
They get special attention.
Eyebrows pencilled,
Mascara applied,
My lip, must take my time,
Part of my face thats you see straight away,
Lipstick needed and time to apply.
But what colour to wear,
Natural, No,
Pink, er no as well,
Dark red it should be,
Or my be CS Red for a dare!
Clothes all laid out,
On top of the bed,
Lingerie, stockings, suspenders, like little threads,
Beautiful clothing,
Stuff I love to wear
"No, not those earrings, here try this pair,
Yes those are perfect, do this with your hair"
Kim, be a darling and zip my dress
"You look beautiful darling,
I bloody love that dress".
"I'd do you, but first let's go get wrecked"
A quick hug and off out we go,
Out into the night.
To have a good time,
But you knew that.
So, my friends. Goodnight ?