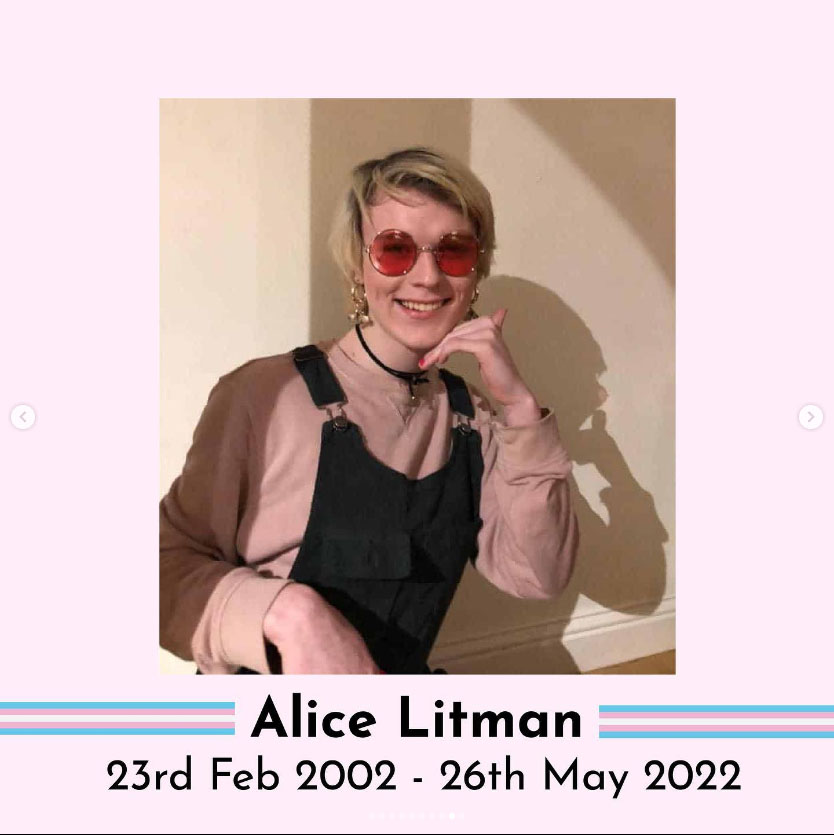 I don't often post text from other sites on the internet, but this story has touched me so much. The story of Alice Litman.
Read the story, and this is some reminiscent of many Trans people in the UK.
Taken from the Instagram account of @lovesuzifox
My synopsis is at the bottom of the page along with support help and groups.
---
Trigger warning.
If you are struggling with your mental health then please stop here. Otherwise, please read on.
On Sunday at a Trans Day of Remembrance vigil in London I stood listening to people who'd lost loved ones because of transphobia talk about their amazing friends or family members. All the stories were hard to hear, but one in particular hit home for me.
It was told by Kate Litman, a cisgendered woman, about her sister Alice, a 20-year-old trans woman from Brighton. On May 26th this year she took her own life because she couldn't face the future as a trans person in Britain. I've put the transcript of Kate's words up as slides. I implore you to read them.
To many, Trans Day of Remembrance is just a date they hear about with no meaning. It's easy to walk on and continue with your lives. For the people who have lost loved ones this isn't possible.
I want you to read the story so you can see a real family that transphobia has affected. Someone who laughed, loved and danced. But who still couldn't face the life trans people have to face.
I'm doing this because I'm not prepared to let another family, or group of friends stand up and tell us through their tears how much they miss someone amazing. How life will never be the same. Just because right-wing bigotry, religious intolerance or government culture wars make life unbearable.
And I'm bored of hearing people say how this shouldn't be happening. How people should just let trans people be themselves. How we should be free to live our lives.
'Should' is a word I hear a lot. Should changes nothing.
The trans community needs more than 'should'. We need action. We need our allies to be vocal in your support. Shut down friends who spread lies about us. Write to your MP urging them to support better trans healthcare. Learn about trans issues or donate to charities supporting trans lives.
Start by donating to the charities chosen by Alice's family. The link to them is in my linktr.ee link in my bio.
I'd like to say I'm sorry if this post was uncomfortable for you. But I'm not sorry. You should be angry. You should want to stop it happening. And you should be asking what more can I do.
Why post this?
May trans people will read this and it will either ring true to their own experience or they will have some element of this story in their own journey. There are some elements of Alice's story with my own, with social and medical services slow to react or provide poor services if at all.
I, from experience have Trans friends who have killed themselves and have thought about it myself on occasions.
This is why I also attend the Trans day of Remembrance and have done for many year. First to remember those but to show solidarity with other trans people experiencing the same issues as myself.
Alice's story is incredibly sad and my heart goes out to her friends and family. Truly it does!
I hope that this page helps prevent even one more Trans person from committing suicide and I would rather talk to someone desperate or in need of help than read about their demise in the near future.
Help!
The following websites are here to help and offer support services for transgender people.
Mindland Trans (UK)
Trans Unite (UK)
LGBT Foundation (UK)
Trans Lifeline (USA)
The Trevor Project (USA)
The Tribe (Worldwide)
Please feel free to email me to inform me of other sites who provide help for Trans people.